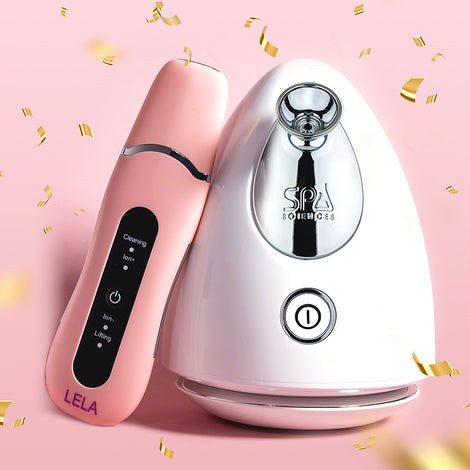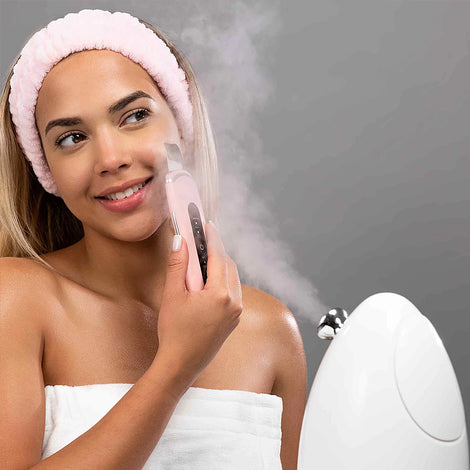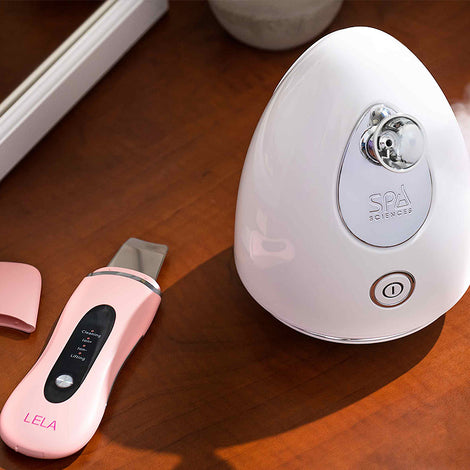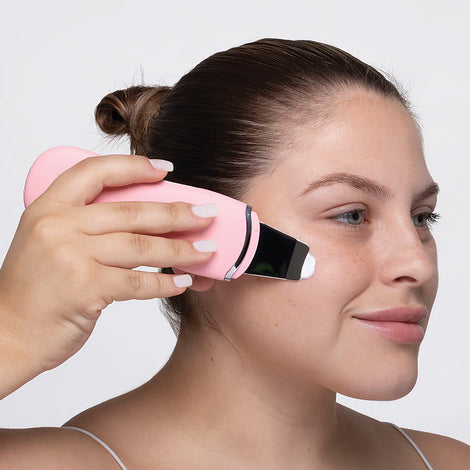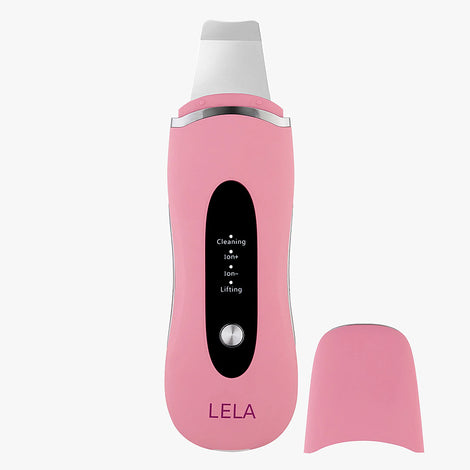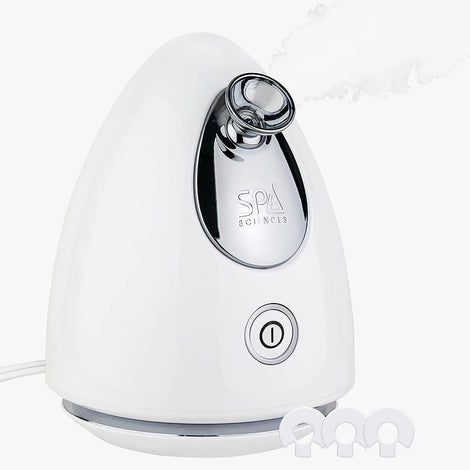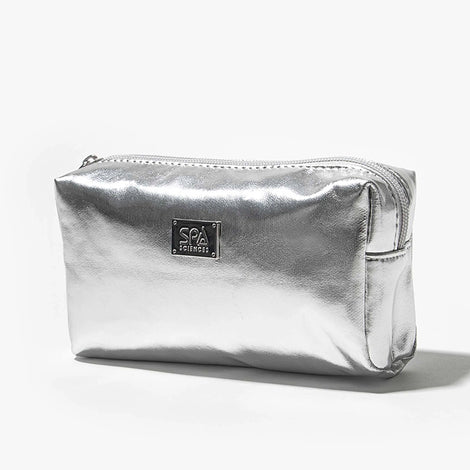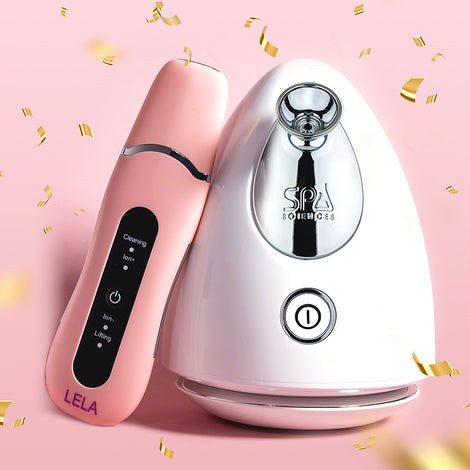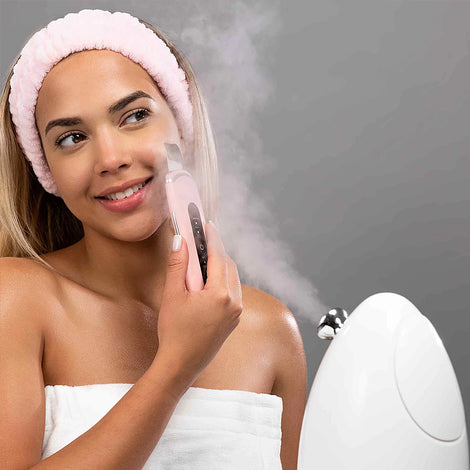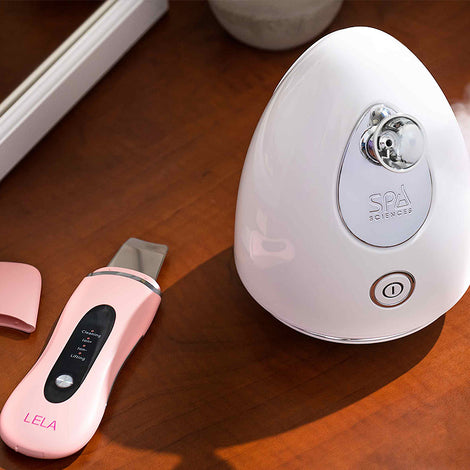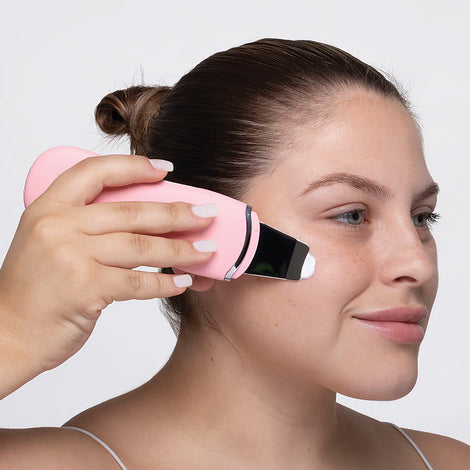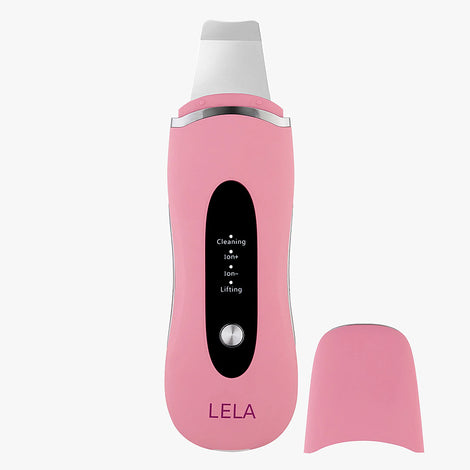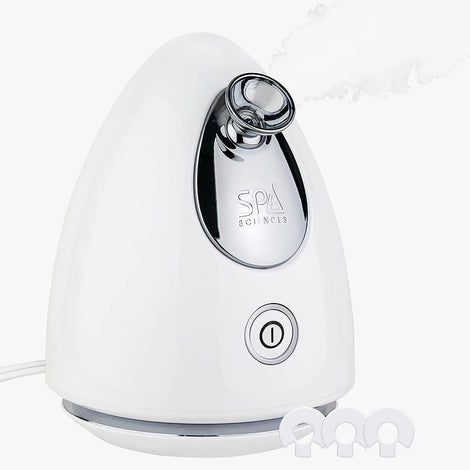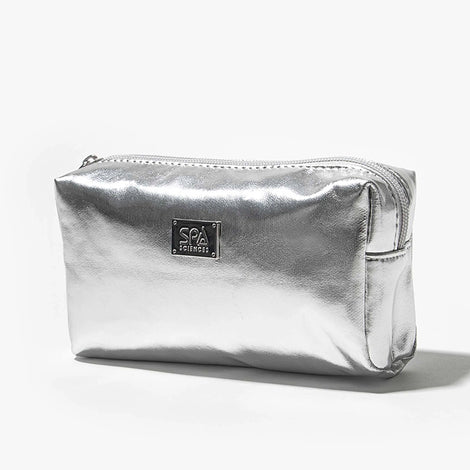 An outstanding Facial Cleansing Savings Bundle including our newly released CIRRA, Vanity Nano Ionic Facial Steamer and our highly-acclaimed LELA, innovative 4-in-1 Ultrasonic Deep Cleaning. The perfect device combination to achieve a flawless skin, right on time before the Holidays! We even added our popular branded Silver Bag for you to store your device accessories, aromatherapy bits and favorite skincare products.
What you're getting:
our complete, CIRRA Vanity Nano Ionic Facial Steamer, with aromatherapy function capacity
our LELA, innovative 4-in-1 Ultrasonic Deep Cleaning Spatula
our stylish and convenient Silver Bag as an added bonus

Who should use it?
All Skin Types, even sensitive skin.
FEATURES & BENEFITS
CIRRA FEATURES AND BENEFITS:
CIRRA is a Facial Steamer with Aromatherapy diffuser function, designed to clear pores and stimulate circulation, perfect to use before deep pore extraction.
● Softens and refreshens skin to help release toxins and impurities.
● Makes skin more receptive to skincare treatments.
● Ion generator helps the steam penetrate deeper to aid in pore extraction.
● Add favorite essential oil to enhance the warm mist for a therapeutic and relaxing SPA experience at home.
● Recommended for all skin types and textures.
● Can be used daily to hydrate and detoxify, promoting radiant complexion.
● Multi-functional, great for sinus relief and eye relaxation.
● Full-powered steam action within 30 seconds or powering on device.
● 360° nozzle diffusion for ease of use and convenience.
● Separate water reservoir prevents water spills and easily inserts into the device.
LELA FEATURES AND BENEFITS:
LELA is a 4-in-1 ultrasonic skin spatula for deep cleansing, exfoliation, lifting & serum infusion to reveal radiant skin.
An essential addition to any beauty routine, treatment with the LELA simply starts with washing the face with water, ideally opening the pores through steaming or a hot towel. The diverse multi-modes of the LELA allow it to bring benefits to boost the radiance of your skin
Ultrasonic Deep Cleaning

High-frequency vibrations use water to push out blackheads, whiteheads, clogged sebum, and debris out of the skin. This deep cleaning is painless and effortless.

Positive Ion+ Technology

For an extra deep clean, attract dirt particles that are impossible to remove by regular facial washing. Get the negatively charged dirt particles out of your skin! 

Negative Ion- Technology

Get the most from your skincare products, pushing active ingredients about 3-5 mm deeper than a simple topical application with your hands. 

Lifting EMS Technology

Electronic Muscle Stimulation contracts to tighten and tone the muscles of the face. Painless and relaxing to help achieve a more sculpted & youthful look.
WHAT'S INCLUDED
CIRRA Steamer Unit

Water Tank

Aromatherapy Basket

User Manual
Please note: Spa Sciences offers a 1-year limited warranty on all devices. Register your Spa Sciences device within 14 days of purchase, and extend the warranty to 2 years of protection at no additional cost.

4-in-1 Multi-function Skin Spatula Tool w/ LED Indicators

USB Charging Cable*

User Manual
*Please note: recommended for use only with 5V 1A or 5V 2A wall charger or via USB slot on your personal computer.
Any wall charger with different specs can cause the unit to overheat.
Bonus SPA SCIENCES Silver Bag
User Manual

Check out our user manual below for more information on the CIRRA

Check out our user manual below for more information on the LELA

})