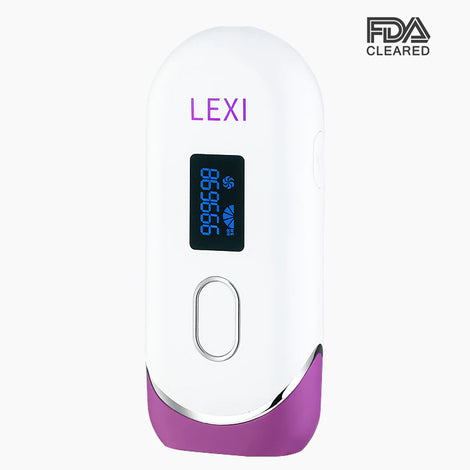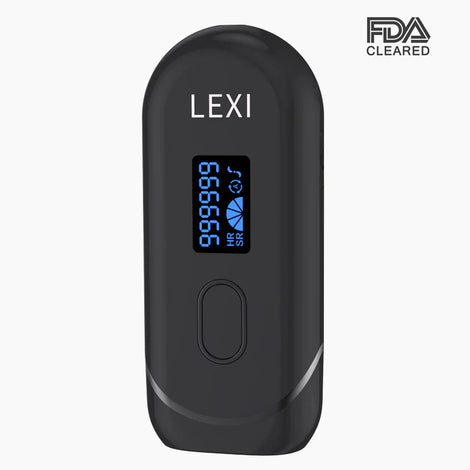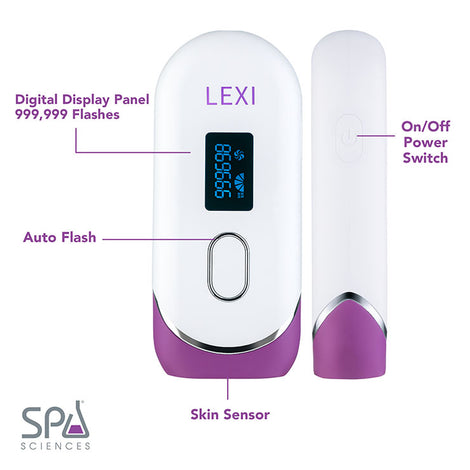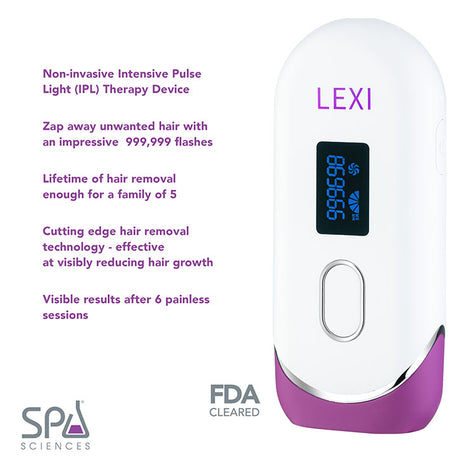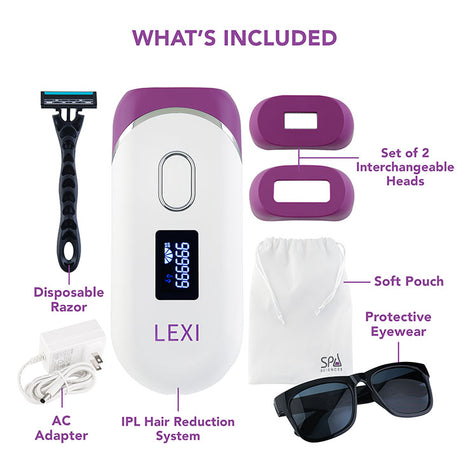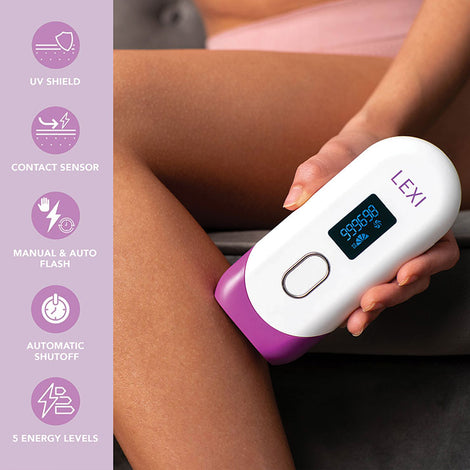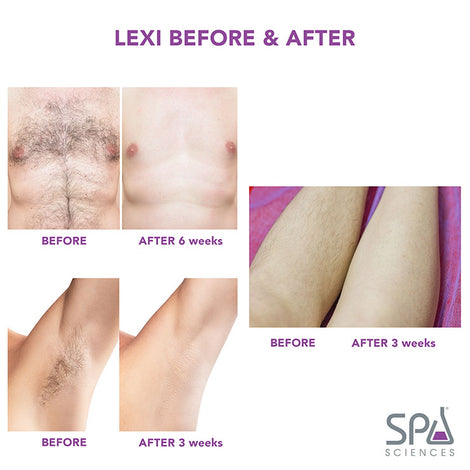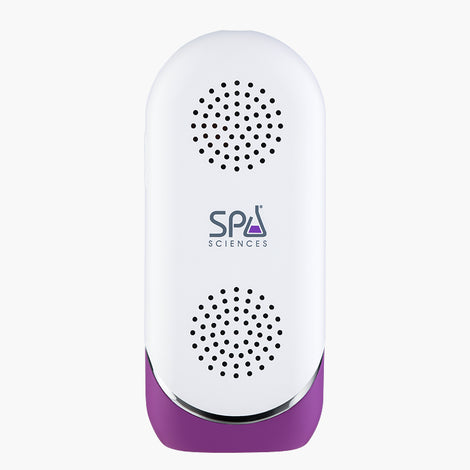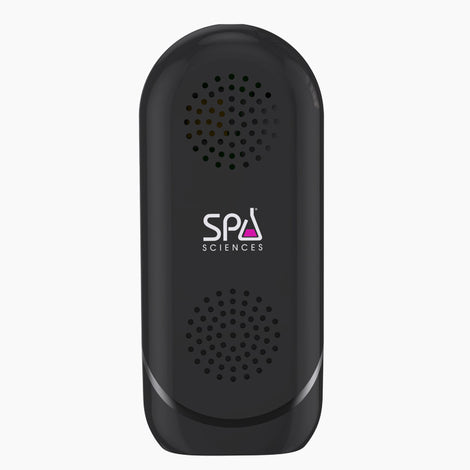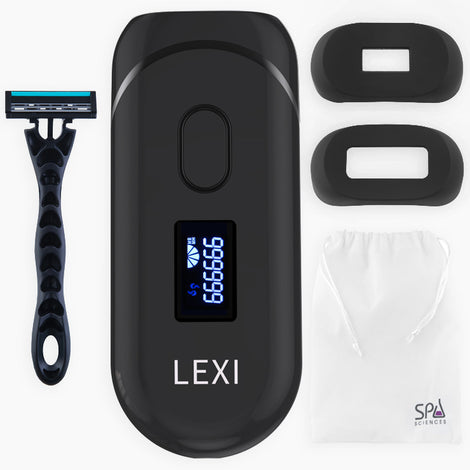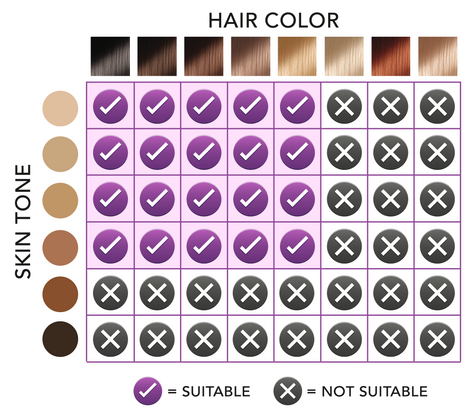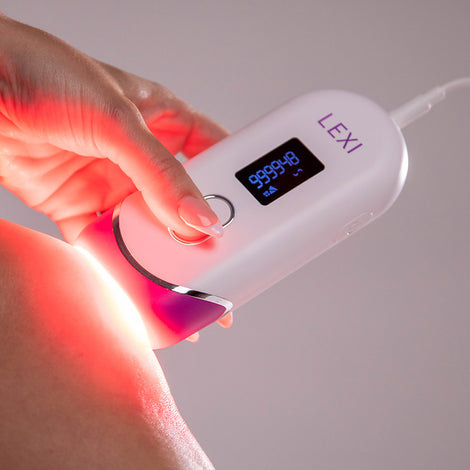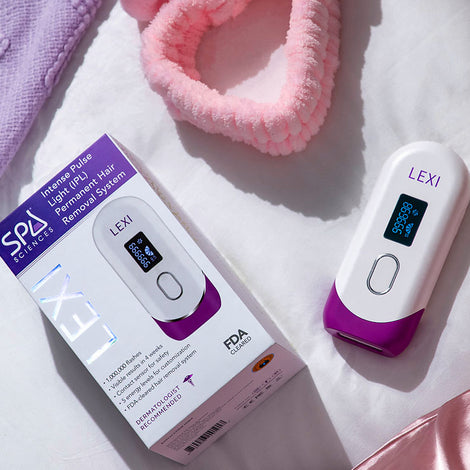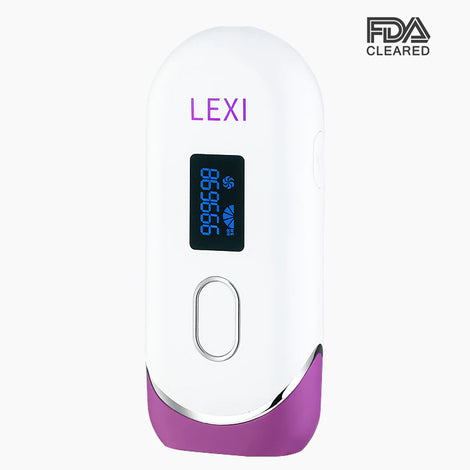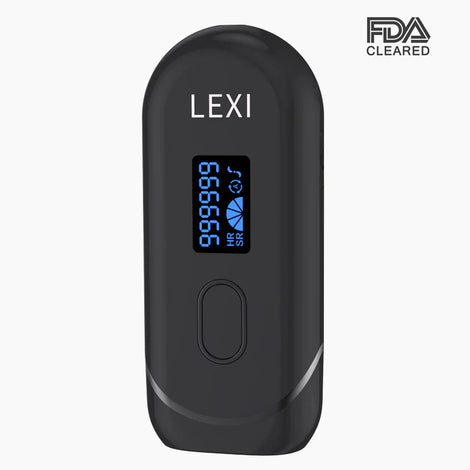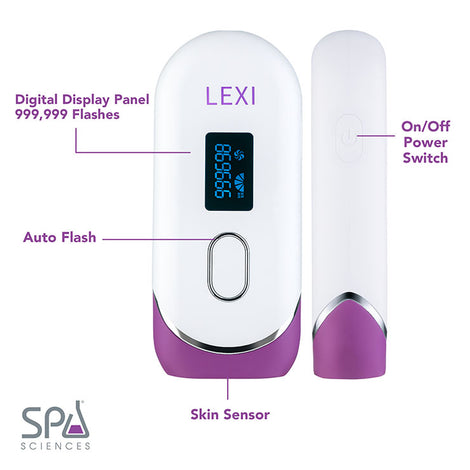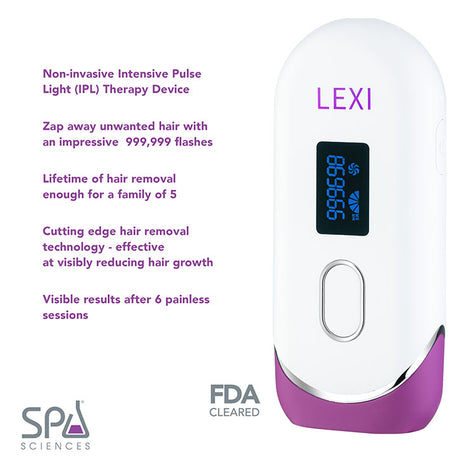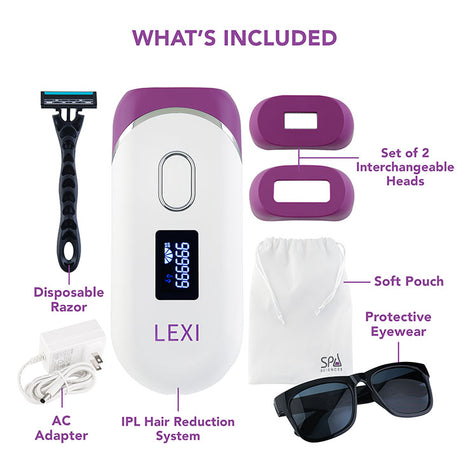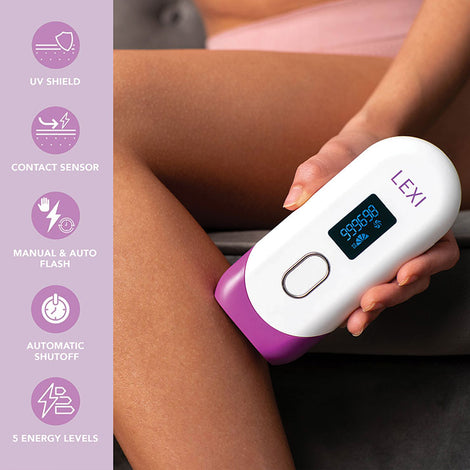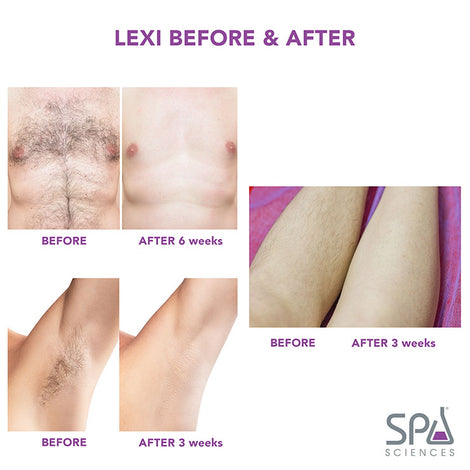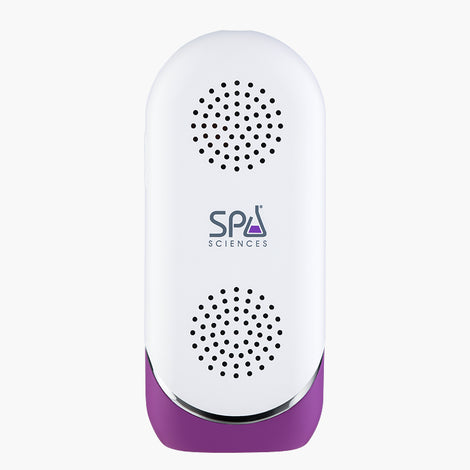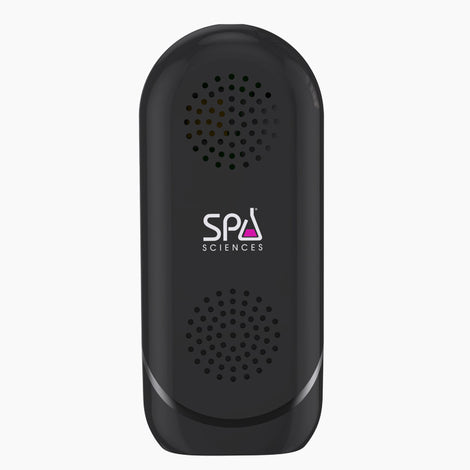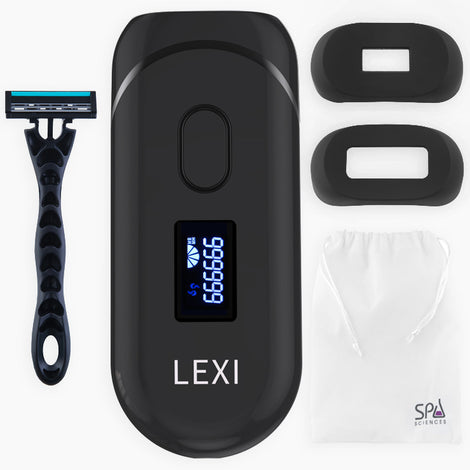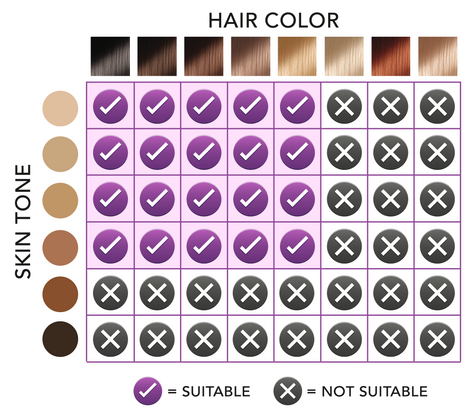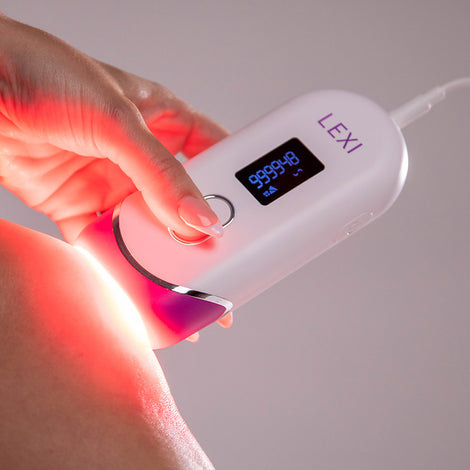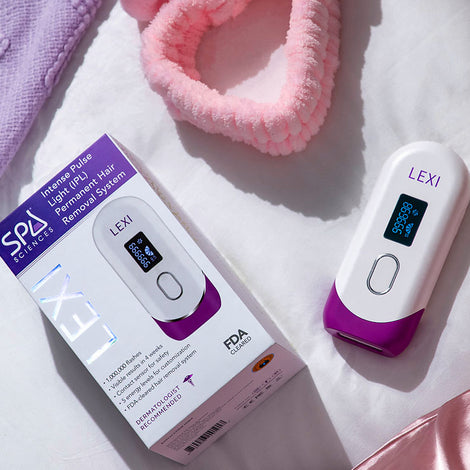 Affordable, yet superior. Spa Sciences is committed to bringing high-quality beauty devices & skincare without breaking the bank.
LEXI is an FDA cleared non invasive Intensive Pulse Light (IPL) therapy device, which removes unwanted hair long-term or permanently. Faster and more powerful than other IPL devices on the market.
If you're tired of shaving, waxing, or spending hundreds on professional hair removal treatments, switch to LEXI which lets you zap away unwanted hair. Boasting an impressive 999,999 flashes capacity - enough for a lifetime of hair removal - the cutting-edge hair removal technology of LEXI is incredibly effective at visibly reducing hair growth or even nip pesky hairs in the bud for good!
LEXI has everything you need to start your hair removal journey. Included you will find an AC power adapter, set of 2 interchangeable heads, disposable razor along with protective eyewear.
USAGE - Week 1-3: Use 3 times a week. Weeks 4-6: 2 times a week. After the 6th week: Use once every two weeks - once a month depending on the specific situation.
You will absolutely LOVE the results you see from LEXI!
IMPORTANT: please refer to the IPL Treatment Applicable User Reference Chart here to make sure this hair removal method is suitable to your skin tone and hair color.
Features & Benefits
UV shield

for increased skin protection.

Contact Sensor

to prevent accidental flash release.

Manual & Automatic Mode

for ease of treatment and customization.

Automatic shutoff

for increased safety when not in use.

5 Energy Levels

for personal comfort preferences.
WHAT'S IN THE BOX
IPL Hair Reduction System with AC Adapter and Set of Two Interchangeable Heads

Treatment Accessories: Disposable Razor & Protective Eye Gear

User Manual
How to use LEXI
STEP 1TEST patch: before your first treatment on each new body area (legs, underarms, bikini area or face) we recommend testing your skin for potential reactions on a small area. Wait 24 hours following the patch test, to ensure your skin is suitable for IPL treatment.

STEP 2Press the device vertically on the skin at an angle of 90° to ensure that the skin is in full contact. Press the Flash Emitting Trigger, and the device will send out a flash, accompanied by a slight "crackle sound", you will feel the warm feeling produced by the flash which is normal.

STEP 3Move the handset to the next area to be treated and repeat. Note that your device will need a few seconds to recharge between flashes. Ensure to neither leave gaps between treated areas nor to overlap treated areas.

STEP 4For optimal results, repeat this treatment every week for 12 weeks to ensure all hair follicles, at all stages of their growth have been treated.
User Manual

Check out our user manual below for more information on the LEXI

})