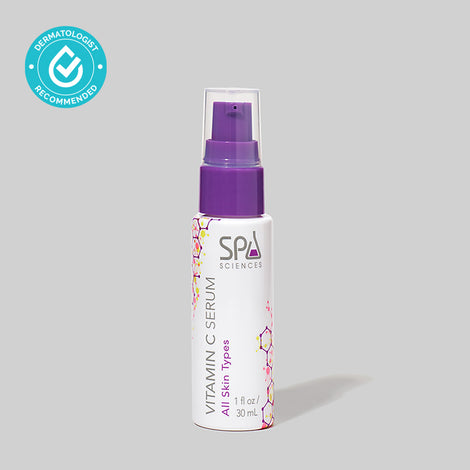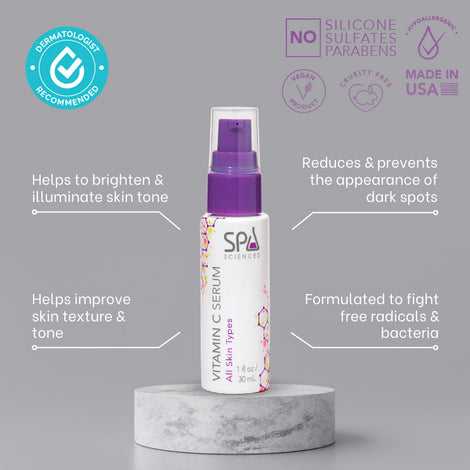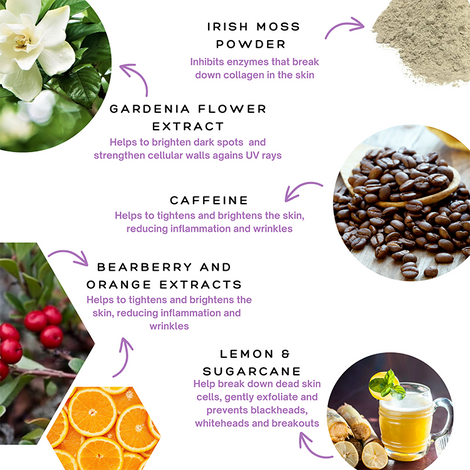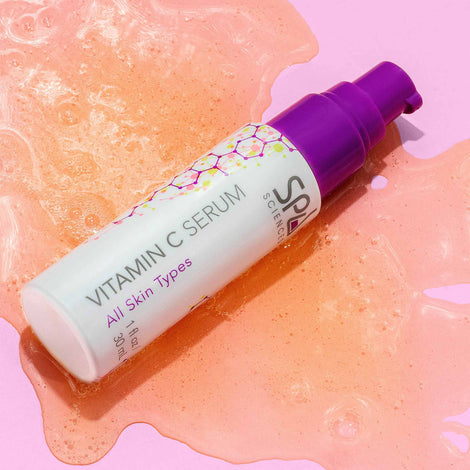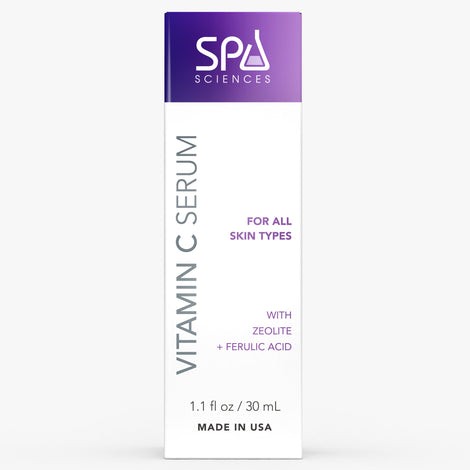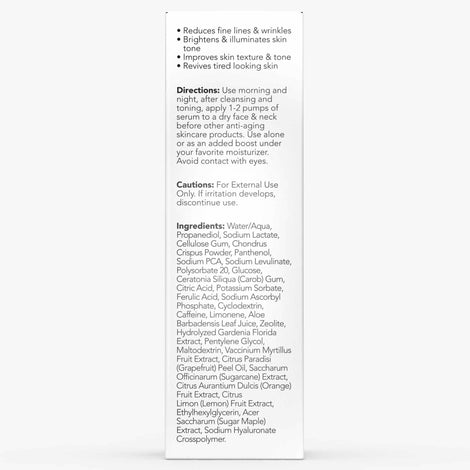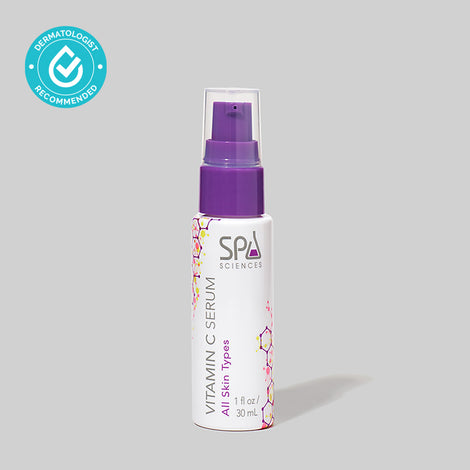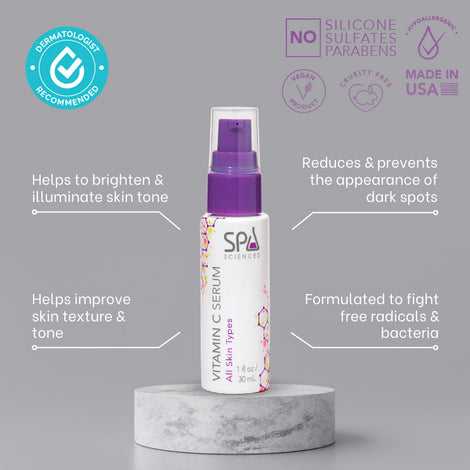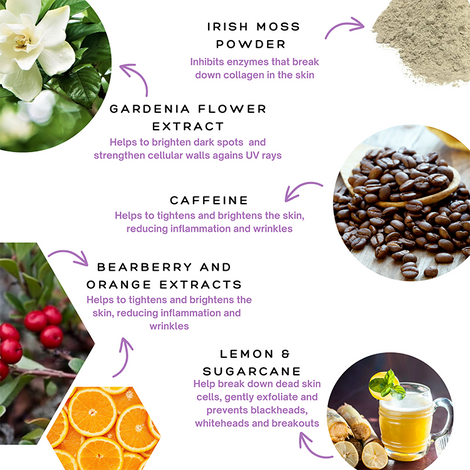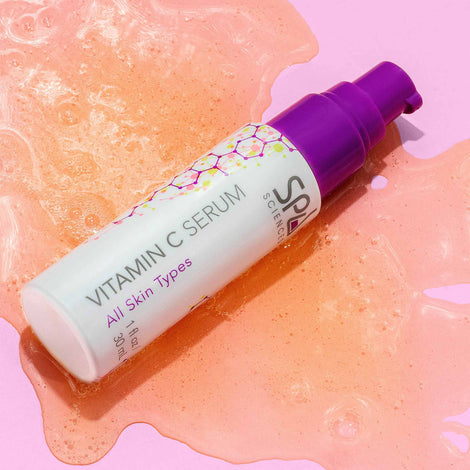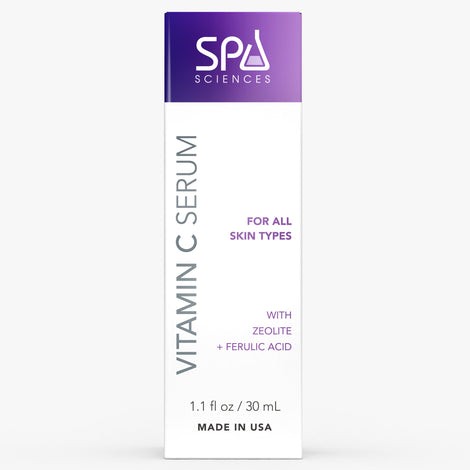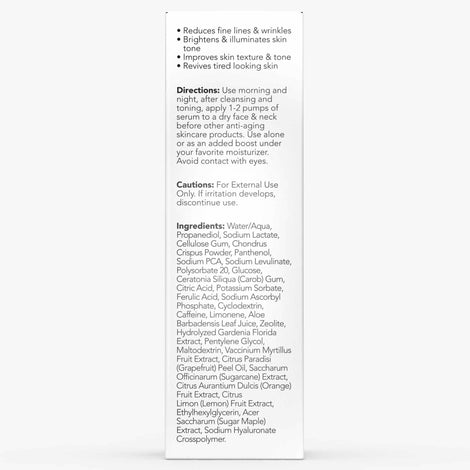 Affordable, yet superior. Spa Sciences is committed to bringing high-quality beauty devices & skincare without breaking the bank.
A quick-absorbing gel-like serum with Vitamin C protects the skin from many problems, including sunburn, photo-aging, hyperpigmentation, wrinkles, sagginess, dryness, and uneven skin tone. This serum is the perfect addition to any skincare regime to brighten the complexion and fade dark spots or scarring.
Rich in antioxidants, caffeine, and ferulic acid to help dull skin, improve overall brightness, and strengthen the cellular walls against UV rays, helping to prevent premature aging and maintaining a healthy complexion.
Spa Sciences Vitamin C Serum can be used alone or stacked with other serums/moisturizers. It is the perfect serum to use after dermaplaning with SIMA to target dark spots and uneven skin tone.
Who Should Use it? All Skin Types, including mature and combination.
BENEFITS
Ferulic acid helps protect overall skin integrity by reducing the development of fine lines, spots, and wrinkles. Zeolite is an anti-inflammatory mineral and helps to clean pores. Antioxidants protect the skin from free radicals and reduce signs of aging.
● Helps fight the signs of aging before and after they begin through natural antioxidant protection.
● Loaded with antioxidants, our Vitamin C Serum helps protect against UV rays while repairing sun-damaged skin or acne scars.
● Vitamin C is a powerful Antioxidant that helps smooth the appearance of wrinkles and dark spots and is essential to collagen production.
● Packed with powerful antioxidants, fruit enzymes, and ferulic acid.
● Helps hydrate, brighten, firm, hydrate & visibly reduce fine lines.
● Evens out skin tone, reducing visible flaws and leaves skin nourished.
● Non-acnegenic.
● Non-comedogenic.
● Reduces dark spots and improves skin tone.
● Made with all vegan ingredients, free of parabens and fragrances.
HOW TO USE
Ideal for use twice daily, morning and night. Pump onto hands and massage into clean, dry skin until fully absorbed. Perfect to use after tonic. Follow with the rest of your skincare products. We recommend one of our moisturizers for the best results.
KEY INGREDIENTS
Ferulic Acid & Gardenia FLower Extract
● Boosts the effect of other antioxidants and protect skin against free radicals.
● Helps to brighten dark spots , improve overall skin dullness and strengthen cellular walls agains UV rays.
Watermelon Fruit and Seed Extract
● Antioxidants that promotes cell regeneration, gentle exfoliation and skin elasticity.
● Rich in Vitamin A, C and B, which help make the complexion look younger, firmer and glowing.
Irish Moss Powder
● Inhibits enzymes that break down collagen in the skin.
● Packed full of natural vitamins and minerals that are essential for maintaining healthy and nourished skin.
Bearberry, Pineapple and Orange Extracts
● Prevents premature skin aging , gently exfoliaties, minimizes pore appearance and protect skin.
Apple and Kiwi Fruit Extract
● Help skin maintain youthful elasticity and help produce collagen.
● Protect skin from degeneration, free radicals and UV radiation.
Lemon & Sugarcane Extract
● Help break down dead skin cells, gently exfoliate and prevents blackheads, whiteheads and breakouts.

FULL INGREDIENT LIST

Water/Aqua, Propanediol, Sodium Lactate, Cellulose Gum, Chondrus Crispus Powder, Panthenol, Sodium PCA, Sodium Levulinate, Polysorbate 20, Glucose, Ceratonia Siliqua (Carob) Gum, Citric Acid, Potassium Sorbate, Ferulic Acid, Sodium Ascorbyl Phophate, Cyclodextrin, Caffeine, Limonene, Aloe Barbadensis Leaf Juice, Zeolite, Hydrolyzed Gardenia Florida Extract, Pentylene Glycol, Maltodextrin, Vaccinium Myrtillus Fruit Extract, Citrus Paradisi (Grapefruit) Peel Oil, Saccharum Officinarum (Sugarcane) Extract, Citrus Aurantium Dulcis (Orange) Fruit Extract, Citrus Limon (Lemon) Fruit Extract, Ethylhexylglycerin, Acer Saccharum (Sugar Maple) Extract, Sodium Hyaluronate Crosspolymer.

})